Darlo Dog Blog Takeover – Rocco Reviews Our New Space
Grrrreeetings furiends! Rocco here, taking over the Darlo Dogs Blog to share my thoughts on the recent renovations. As a doggy daycare regular, I'm the perfect pooch to road-test the new spaces and give you the low down on what you can expect when you bring your fur babies in for a play or groom. Here's what happened on my first day at the new and improved Darlo Dogs…
7.30am
We rock up at my favourite Darlinghurst address and something is very different – where did all this extra space come from?! Either I've shrunk overnight or this place is suddenly twice the size! I put my nose to the floor and sniff things out before the my besties Buddy, Lulu, Havana and Edie get here. Yup, definitely many more places to wee for all those young puppies! Wheeeeeee!!!
8.30am
It's rumble time! There's no stopping us when the pack gets together.  The gang and I have moved the morning play to the new red lounge and try not to laugh at Edie who has to be lifted up and down because her legs are too short.
Edie, Lulu and Havana play tip through the tunnel and around the beanbag. With so much more room now the chase is definitely on, but we all know Lulu will win – she's a pocket rocket that one!
10.30am
Time to take in the sights and smells of the neighbourhood on our morning walk. The team here always make sure we get plenty of fresh air and exercise. Plus, it's a chance to leave a few pee-mails for the other doggies in the area to find later.
After our morning walk, some of the older crew retire to the beds in the chill out space. It's the perfect place for a mid-morning snooze, away from the overly enthusiastic puppies.
12.30pm
Nice to see the colourful beanbag is still here. I especially love to sneak up on doggos when they're playing on it and swipe the toys right out from under them, ninja style.
Havana has stolen my favourite rope toy and thinks she can hide in the tent, little does she know…! We have an epic tug-o-war, which I win (of course) and I head back to the day bed with my prize.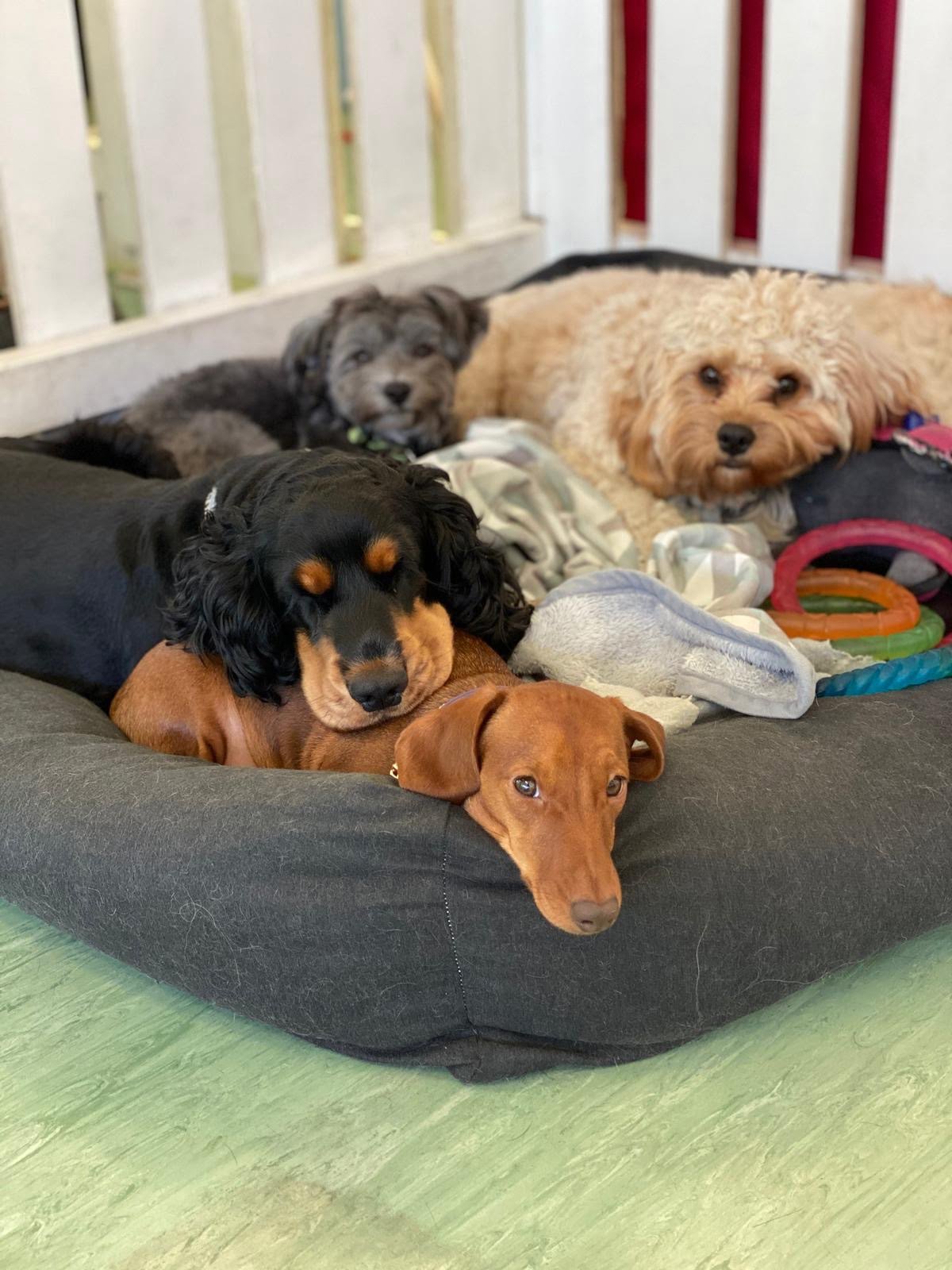 2.30pm
Time for my spa session. The new grooming space has so much more room, with lots of new gadgets and a great view back into the pen so I'm never far from my friends.
I relax into my bath massage then it's time for my blow-out. Waves for days! You can't handle this cuteness!!
The new holding pen for all the freshly groomed dogs has the best brightly coloured cushioned floor (so squishy) and it's a
great spot to chill before being picked up. Not for me though! After our afternoon walk to the park I'm straight back in with my other friends for more socialising.
5.30pm
Home time. Edie's mum always gets her treats on her way home for dessert, but I never want to spoil my appetite. Before I go I do my signature 'spin-cycle' to show-off my luscious locks, turning around and around and around in circles to make sure my Mumma knows what a great day I've had. Then its home for dinner and snuggles with my fam. Can't wait to come back and do it all again tomorrow!
—
Thanks for sharing your experience with us Rocco – we love having you come to play. If you want to learn more about what happens at doggy daycare, make sure you follow our socials for daily updates and lots of cute pics.