You've adopted a puppy and now you notice they can't see? Grooming is not only for looks but important for the health of your dog. Knots and mats can pull at the skin as they tighten and be painful. Skin needs to breathe to avoid potential infections and they need to be comfortable in the heat.
We aren't the only Small Dog Daycare in Sydney's inner city suburb of Darlinghurst but we are also qualified groomers. We groom all sized dogs too! Below are a few helpful tips for new puppy owners and those who just want to be well-informed.  If you have any questions we're always happy to discuss your individual concerns. Darlo Dogs.
How early should I get my dog groomed?
Its super important for your dog's wellbeing that they become used to being groomed.  If you have a dog with a long coat such as an Oodle/Shitzu etc grooming will be a regular part of their life.  So you want them to get used to people holding their paws or looking in their ears or combing their tail.  As dog owners you can start this from a very early age.  Playing with their feet is an easy way to begin.  Touching nails and moving legs around is also good.  Try doing it during play and even treating them at the same time.  They'll associate the touch as a positive one.  Give them a yummy long lasting chew while you brush.  We strongly advise not to attempt to clip your dogs nails unless you are confident as it does not take long for a dog to associate a negative feeling with a bad experience.  If your dog has black nails it is very easy to cut too much off causing them to bleed.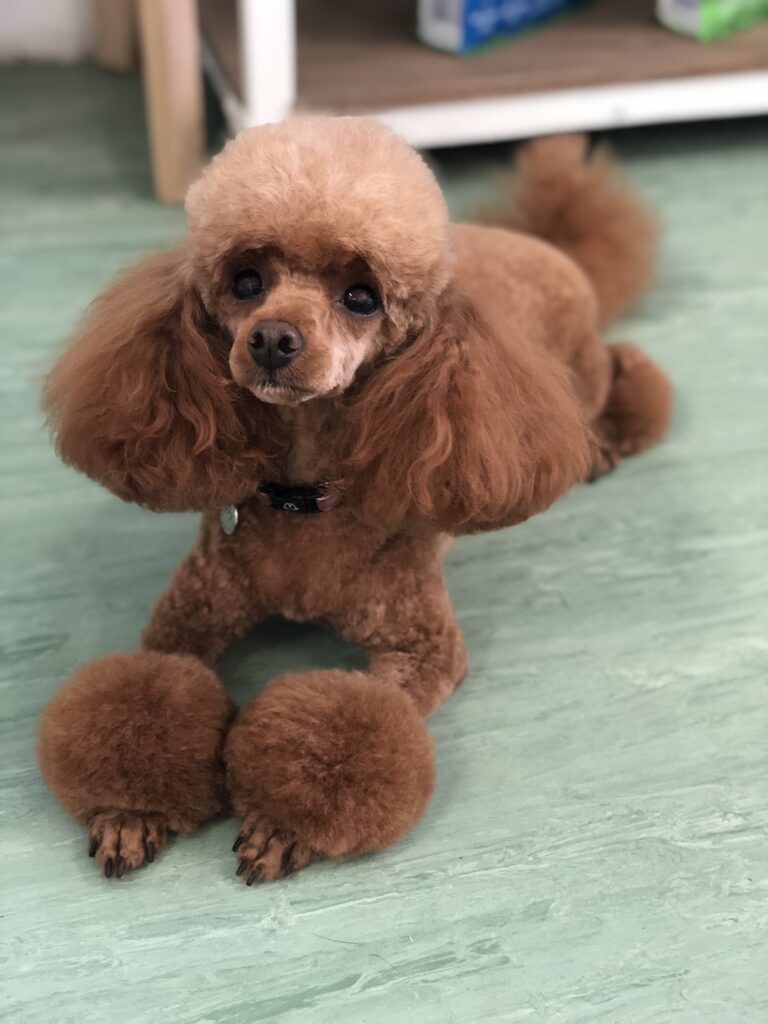 We love owners who bring their puppies to us and begin grooming at a young age.  We see pups from as early as 4 months and suggest a Wash & Dry service to start off with.  We take the whole process very slowly, give treats at very regular intervals and keep a calm environment.  They are likely not to love it at first but once they know that its just water.. or only air and it wont hurt them they relax a little and tolerate the pampering.  The more frequently they experience the sounds and even the height of the grooming table the more comfortable they become.  We always want out dogs relaxed when they leave.
I'm brushing but my dog always comes back from the groomer like a new born lamb!
Many believe they are brushing their dog's correctly.  But are you doing it right?!  Were you ever taught by your groomer how to do it correctly?  Our Dog Daycare staff at Darlo Dogs are groomers too!  We encourage and teach those who want to learn how to keep their dog's coat long and knot free by brushing and combing from the root.  When you separate your dogs fur can you see their skin?  This is a good indication that you're doing a great job!
Most owners think they are brushing but are only catching the top layer of hair, leaving the layer closest to the skin matted.  Once you've visited us for a grooming service your dog will be knot free and we suggest to begin brushing straight away.  Don't be complacent!  If you begin daily brushing from the moment they have stepped out of the salon, not only will your dog begin to enjoy being brushed – because there are no knots, you will get into a habit of doing it before that tipping point.  We all know that feeling….yesterday it was fine and today you can't get the comb through!
At Darlo Dogs we never shave a dog unless its absolutely necessary and will always call and discuss if deemed the best way forward for your dog.  We will always put your dogs wellbeing first over what is requested if the coat is matted.  Removing knots and mats is painful and no one wants a dog to suffer for beauty!  The only way to keep your dogs coat long is regular brushing or combing.
I have a double coated dog like a Sheltie or a Border Collie, wont they get hot if I don't cut their hair?
Dogs such as German Shepherds, Collies, Golden Retriever, Huskies, Pomeranians etc have a double coat.  These dogs have two coats because of the purpose for which they were originally bred.  The top coat is made up of tougher coarse guard hairs and their undercoat is a fine thick and often downy plush hair.  The insulating undercoat would have kept a dog alive in the deepest of winter and this undercoat are the hairs you find around your house!  Their double coat helps them regulate their temperature.
The best way to keep your dog cool in summer is to ensure they are groomed regularly and have a de-shedding at the beginning of each season to remove all of the dead hair.  Then the outer coat can work as it is intended.  Protecting from the sun and insects yet allowing the air to get to the skin and cool them down.
Regular brushing to avoid tangles and mats is also recommended.  To avoid snow storms of hair throughout your house a good Blowing Out groom at the change of season is the type of service they need.  With our powerful hydro bath and dryers then a thorough combing you'll be amazed at the difference.  Trust us!  Once you've seen our grooming room after a double coated dog has been blown out you'll be jumping for joy its not your house!
Wouldn't shaving my double coated dog help with the shedding?
No!  In fact if you shave a double coated dog you are merely cutting both the guard hair and the undercoat to the same length.  You're not removing the undercoat.  The shedding will be the same and the dogs skin wont be able to breath hence remaining hot.
Shaving a double coated dog is rarely done and recommended only if coat is truely neglected.  There is a possibility the hair wont grow back or in patches.
In summary;
In summer, your dog will shed the soft undercoat,  leaving behind the guard hairs. Without removing the undercoat, the air can't circulate beneath the outer hair and keep the skin cool.  The top coat with the tougher guard hairs protects your dog from the sun's rays and insect bites.
Blow Out grooming and thorough combing to remove undercoat is advised every few months.
Daily brushing is advised to keep hair shedding hair at bay and no tangles.
Double coated breeds only grow their fur to a certain length.  Shaving a double-coated breed may result in patchy hair or it simply doesn't grow back.
Shaving a double coated dog does not reduce shedding.  When you shave the guard coat and the undercoat together its only cutting them both to the same length.  The undercoat will still remain on the dog and your lounge!
Want to know more or have a chat?  Please call Darlo Dogs on 0498 035 999 or hop online, set up your profile and book online.